Biography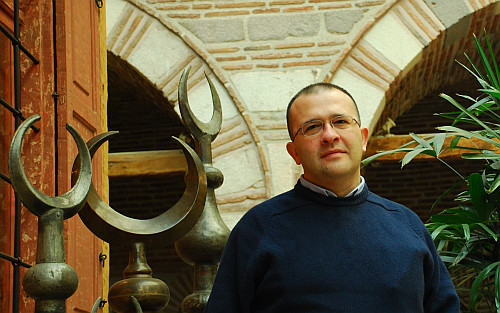 Born in Ankara in 1969, Serhan studied English at TED Ankara College, a private school, and received his B.Sc. in Political Science and Public Administration from the Middle East Technical University (METU), Ankara, in 1992. He pursued graduate work in Ottoman Social History at Istanbul's Bogazici University and earned his Master's degree in Geography from Istanbul University with his thesis on the historical battlefields of Turkey.
During his years of military service, Serhan served not only as a Marine Lieutenant commanding troops in the operations of Turkish Navy, but also as a part-time protocol officer. In this capacity he organized tours and guided high-ranking NATO officials during visits to Turkey. Post-military, a corporate stint led Serhan to work in 16 countries as a factory inspector for Wal-Mart Stores Inc.
After graduating from a rigorous, one-year training program, Serhan was certified as an official tour guide by the Turkish Ministry of Tourism in 1997. During the past decade, Serhan's freelance activities have led him from one fascinating experience to the next — from working as a show translator and guide for David Copperfield's Magic Show in Istanbul to hosting official guests of the Turkish government like foreign ministers, military commanders and corporate leaders. In late 2008, as part of an official Ministery of Culture and Tourism program, Serhan gave a series of training seminars on the subject of historical battlefields of Turkey to all of the professional tour guides in Istanbul. Serhan also served as a member of the board of directors of Istanbul Tourist Guides Guild (IRO), the oldest and largest professional tourist guides organization in Turkey with 4,500 members.
The scope of Serhan's guiding is broad. He has led large cultural groups as well as special-interest private tours. Serhan regularly guides groups of docents from the Boston Museum of Fine Arts on three-week study tours of his country's history, as revealed through its fine art and architecture. Serhan thrives on introducing guests to Turkey and enjoys the wide variety of people he meets — from teachers, historians, journalists and beach lovers to corporate CEOs. Furthermore, he has accompanied Turkish travelers to more than 30 countries. His areas of expertise include cultural history, art, architecture, archaeology, military history, culinary arts and photography.
Serhan guides tours all over Turkey, but his hometown Istanbul has a special place in his career. He loves this magnificient city with all of its diversity representing its long imperial past and modern cosmopolitan life. In addition to introducing his guests to world famous historical sites of Istanbul as a lecturer guide, he does special walking tours and hop-on hop-off urban discoveries where he takes his guests to undiscovered neighborhoods, historical areas, streets, restaurants and brings them along on a treasure hunt of art and music in Istanbul.
Serhan's personal interests congregate around communication. An avid reader (social, political and economic history, as well as archaeology and art history) and follower of international politics, he is more than likely to engage you in a well-informed and lively conversation about the current state of the world. He is a lover of jazz and classical music and frequently attends music festivals. Having acted throughout his university years, Serhan has produced and presented radio programs, "Seyahatname" (Travelogue), for Istanbul stations, Yapi Radio and Acik Radio.
On March 10th, 2019, Serhan was elected as a member of the Executive Board of Turkey's Association of Tourist Guides (TUREB) which is a national organization representing 11,000 tourist guides in Turkey.
---
Copyright © 2021. All rights reserved.
—
Site Index
—